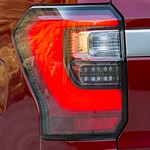 The Ford Expedition is a popular SUV that has many top-notch performance features. If you're in the market for a full-size SUV, you should definitely consider what the Expedition has to offer.
Limited-Slip Differential

The limited-slip differential feature in the Ford Expedition is an incredible feature that supports optimal performance. This is accomplished by making sure there is a sufficient amount of traction to prevent wheel spin. It helps to ensure the wheels don't lose grip, especially when there are difficult weather conditions.

Two-Speed Automatic 4WD

?Having two-speed automatic 4WD in the Ford Expedition is beneficial because it continuously adjusts the amount of power that's delivered to the wheels. The purpose is to ensure optimal traction.
We invite you to test drive the Ford Expedition here at NorthStar Ford. It's a good way to get a better understanding of why this SUV continues to grow in popularity.