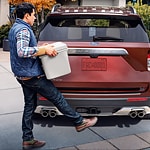 When you need an SUV that you can trust with any of your driving trips in Duluth, consider the newly designed 2020 Ford Explorer. NorthStar Ford can show you the different models that could suit your unique driving needs.
The Explorer is built with rear wheel drive for exceptional performance in a wide variety of conditions. When paired with an advanced 10-speed transmission, it'll provide an outstanding ride under any conditions. You'll get to experience improved acceleration, especially at the low and mid ranges of the engine's power band.
To keep you safe, the Explorer can be equipped with a Reverse Brake Assist system. This will detect any objects behind your car when you're in reverse and issue a warning if you're about to hit something. Brakes will be applied if needed to help you avoid a collision with a stationary or moving object.